Winter season holidays can often bring about feelings of stress and anxiety. We all tend to move faster, worry more and relax less. Decorating the office or holding a decorating contest are great ways to boost morale, create connectivity and spread cheer throughout the workplace.
Holiday decorating for the office can be a bit overwhelming, because we all want to be respectful of the rich diversity in cultures and beliefs that circulate this time of year. Even if two people celebrate the same holiday, their traditions can vary greatly because of family influences and where they come from.
If you want to decorate the office in a respectful way that will bring everyone into the spirit of the season, choose a general theme and stick with it. Take a look at some of the unique themes we've put together that will surely get your employees in the spirit of the season!
Tropical Holiday Heatwave
While Christmas is a vastly celebrated holiday, the differences in traditions, attire, décor and even food can vary radically due to environmental differences like climate and location.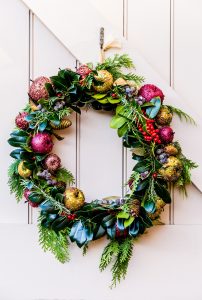 For instance, in Hawaii, Christmas is celebrated much like in the continental US; with Santa Claus, lights, trees, and traditional holiday wreaths. But of course, Christmas in Hawaii comes with its own unique style.
Santa is often depicted as riding an outrigger canoe pulled by dolphins, rather than with a sleigh and reindeer. But he still makes the traditional appearances at shopping malls; dressed in a red aloha shirt and board shorts this time.
If you work in a cold climate, consider giving your employees a change of scenery this holiday season. String lights up artificial palm trees and add tropical flowers to traditional holiday wreaths to quickly warm up the office.
And don't forget the color! While traditional holiday colors can often stick to a limited palette, the colors of the tropics know no bounds.
Start with green as your primary color, as this can represent both the lush island flora and pine needles, then add splashes of bright color. Fuchsia, tangerine, yellow and aquamarine should get you started. You can also incorporate a few nautical items, like seashells, sand dollars, or even gingerbread lighthouses.
Trade the snowbank for a beachfront this year and let this sunny décor brighten the spirit of your office.
Another Change of Scenery
Take a cue from the tropical holiday theme and bring a different setting to your employees for the season.
If your office is based in the city, using a country themed holiday decor can generate a sense of comfort and serenity for your employees. Begin with earthy tones as your base colors, like brown, tan or even white.  Then, add a pop of red plaid or red and white gingham for contrast.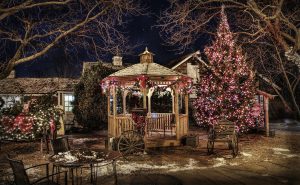 Be sure to utilize accent pieces inspired by nature to enhance the concept. Pinecones, artificial berries, mistletoe, wicker baskets and mini burlap sacks can add subtle color and depth to your décor. Bringing a touch of the country outdoors into a city based office will refresh your employees.
In the same vein, if your office is in a country setting, consider bringing in some city excitement to change things up.
Don't be afraid to go a little darker with your base color for this theme. Black, deep blues or even plum is a great way to emulate the city night sky. Be sure to include plenty of strands of white twinkle lights in for contrast. Hanging elaborate baubles or lighted stars will also add extravagance.
You can even purchase a red carpet runner with stanchions and velvet ropes to give your employees a glamorous daily entrance throughout the season. And remember, no big city holiday is complete without an oversized tree with an abundance of its own lights and ornate ornaments.
Cityscape backdrops, lamp posts, and lighted signs are also an option, but might be better suited for a holiday event rather than season long décor.
Winter Solstice Spirit
The winter solstice marks the beginning of winter and falls on the shortest day of the year. In the northern hemisphere, this typically happens around December 21st. This theme will instantly turn your office into an elegant winter dream-scape.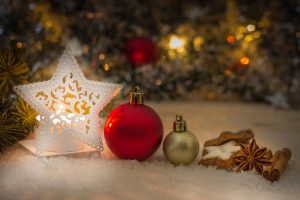 To get started, use white as your primary color to represent lots of snow, then add hints of silver and blue to induce an icy chill.
Although the beginning of winter falls on the shortest day of the year, it's actually a celebration of light. This is believed to be the origin of the yule log tradition, so you can incorporate natural wood or faux logs into your décor. And battery operated candles is a safe way to add a fitting, cozy glow.
Your employees will immediately be swept into the feelings of the season by decorations that boast all things winter. Pine cones, snowflakes, holly and evergreen sprigs will transform any workspace into a beautiful earthy backdrop so frosty, you might need to keep hot cocoa at the ready!
Make it a Blockbuster Season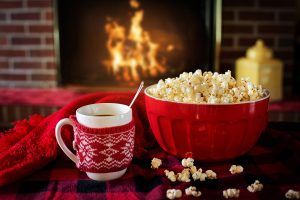 What do holiday decorations and our favorite movies have in common? Popcorn!
Waiting all year to watch our favorite holiday films, is a type of anticipation many of us can appreciate. Even with streaming technology changing the way we access media, there is still something nostalgic about engaging in holiday films during the holidays.
Don't worry, I'm not leading into a Die Hard debate.
If you're encouraging your employees to participate in an office or cubicle decorating contest, Consider having each employee decorate their personal workspace to represent their favorite holiday film!
The possibilities that come with this theme are practically endless. You will likely see employees using films from their childhood, like How the Grinch Stole Christmas, A Charlie Brown Christmas, Frosty the Snowman, and an array of Claymation classics.
You're also sure to see décor modeled after more contemporary films, like Elf, Polar Express and The Nightmare Before Christmas. This theme can be wildly fun, revealing, and strike up great conversation around the office.
If you're not holding a contest or asking your employees to decorate individually, this theme can also be used for the entire office or holiday event.
Choose one film and model your holiday décor after it. If you'd like everyone's input you can create a list of the top 10 holiday films and have your employees vote on which one to use.
You can even bring a movie projector to your annual event and silently play holiday films to create a backdrop-in-motion.
Candy Land
I think most of us will agree that one of the absolute best things about the holidays is indulging in all of the sweets and treats that come around for the season.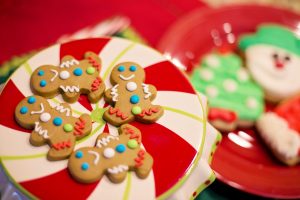 If you want to bring a whimsical feel to the office this year, having your employees decorate their individual workspaces with a candy theme will do the trick. You can be specific and make it a gingerbread house theme, or just let the creative ideas flow.
This fun decor theme allows each employee to decide their level of participation. A simple, single string of candy canes will suffice for some, while a full-on Wonka wonderland will only be enough for others.
This is also a fairly inexpensive theme to execute, as people can opt to use real candy for their decorations or get crafty with cardboard, foam and paint to generate a jumbo junk food montage.
The bright colors that come with traditional holiday candy will create a sugar type buzz around the office. Peppermints, gumdrops, ribbon candy, brightly colored foil wrapped chocolates, and a wide variety of candy cane flavors can provide all the hues for a happy holiday.
If you're hosting a holiday party, this theme can be carried over with a desert table.
A chocolate fountain with fruit, cookies and pretzels for dipping. A sweetly designed gingerbread house display. And a hot cocoa bar with all the necessary toppings: marshmallows, chocolate shavings, caramel syrup, cookie crumbles, candy cane pieces, and of course whipped cream. Whew! Did I forget anything?
Wrapping it Up
Celebrating the winter holidays is a wonderful way to show individuality and build a sense of community in the workplace.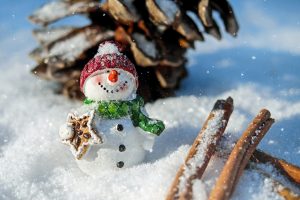 Choosing a décor theme that suits your unique office vibe is a simple way to reduce some of the seasonal stress so everyone can focus on the beauty of the holidays.
If you do allow your employees to choose their own decorating themes for their personal work areas, be sure to consult your HR department or do a little research beforehand. Also, provide your employees with clearly written guidelines and parameters that will ensure a respectful and unobtrusive display that everyone can enjoy.